Post by Alice ;; ♥ on May 17, 2007 3:59:02 GMT -5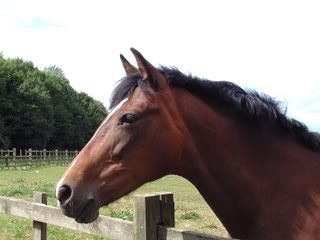 Owner's Name : Anna Clark
Name : Borachio
Age : 7
Gender: Male
Years of training : 5
Breed : Alter - Real
Coloring : Bay
Disciplines : Show Jumping and Cross Country
Personality: Borachio is a very lively character. He often finds it hard to trust others, horse or human. But once he does, he is a beautiful ride and an incredible friend. Named after a boldly flirtatious villain from a Shakespeare, Borachio is not at all mean, and is actually a true friend to Anna.
Anna loves him dearly, and is always out riding him around very hard courses. She was won many prizes with him, and he certainly acts proud.
History: Borachio was bought as a foal by Anna. She vetted him and trained him up, and now happily looks after him.
Owner's Name : Anna Clark
Show Name : The Art of Perfection
Stable Name : Art
Age : 7
Gender : Male
Years of training : 5
Breed : Lipizzaner x Comtois x Boulonnais
Coloring : An incredible white
Disciplines : Dressage
Personality: This fine stallion's name came from his impeccable dressage routines. He used to be known only as art, but the new name has become well known, and has stuck. Art tries hard at his event, and seems to put pressure on himself.
He likes quiet places, and can be very jumpy, so Anna must be very careful. But Art is a wonderful horse, and loves the attention Anna gives him.
History: Anna has had Art for ages, since he was born, almost. She has taken special care of him, and a strong bonding of trsuting friendship has since grown between them.
Owner's Name : Anna Clark
Show Name : Perdido em Tempo
Stable Name : Tempo
Age : 5
Gender : Female
Years of training : 3
Breed : Arabian x Mustang [with Spanish lines]
Coloring : A heavily dappled grey
Disciplines : Western
Personality: The name is Portuguese for 'Lost in Time'. She is a beautiful mare, with an obvious amount of power and passion. She can become almost unmanageably wild, and enjoys nothing more than western riding and bareback gallops with Anna.
This horse is incredibly free, and seems to be a wild horse, even when tacked up. Anna respects her immensely, and Tempo adores her caring owner.
History: Tempo has only been with Anna for two years, but Anna saw the beauty and potential that Tempo clearly had. She trained her well, and now the two compete and ride together constantly. Its love.