Post by Alice ;; ♥ on May 12, 2007 15:43:58 GMT -5
Owner's Name : Davi
Show Name : Butterfly Eyes
Stable Name : Butterfly
Age : 6
Gender: Female
Years of training : 3
Breed : Arabian x Haflinger
Coloring : Palomino
Disciplines : Trail Riding and Pleasure
Personality: Butterfly Eyes is the sweetest horse ever. She is completely trusting and outgoing, which could be a bad thing in certain circumstances. But she adores Davi, and is fully willing when it comes to riding. She is completely in love with Davi's stallion, Silent Memory, and they have a foal together. The foal was given to Kate about a year ago. Butterfly can be slightly jumpy aroudn traffic, so Davi tends to take her for quiet treks in the countryside or by teh sea.
But this beautiful horse isn't always quiet. Once she gets going, she is a wonderful ride, and will canter, gallop and jump well. Davi occasionally takes her over logs, styles and fences when they're out.
History: Butterfly has a quiet past, with a couple of caring families along the way. She was born in Davi's home town, and lives for two years with her parents. Then, she was put up for sale. Davi, at age twelve, saved up for this horse, and finally managed to get her, after ages of not spending any pocket money, and was lucky enough to get money off Butterfly. Since then, the two have basically been completely happy.
Owner's Name : Davi
Show Name : Silent Memory
Stable Name : Memory
Age : 6
Gender : Male
Years of training : 4
Breed : Arabian x Connemara x Andalusian
Coloring : Grey
Disciplines : Show Jumping
Personality: Memory is a very shy horse, but come sout of his shell when around either Davi or Butterfly. He adores both, and is absolutely in love with Butterfly. He is very hardworking, and always tries hard when it comes to shows. He has won many ribbons, rosettes, prizes and cups in his time, and always seems to put a lot of effort in.
Memory enjoys his show jumping, and it's very clear. He likes speed jumping, where the horse gallops and jumps the whole course without stopping. Yes, Memory likes the thrill of going fast, and goes wild in the pastures, rearing up and galoping around. Davi loves it.
History: Memory was given to Davi, along with ___, when an old lady who sponsored him at the care home passed away. She had left the horses to him in her will, knowing, at the age of fourteen, that Davi already had Butterfly. Davi always loves this old lady like his own grandmother. Davi had actually named her before hand, in teh same way he had with _________.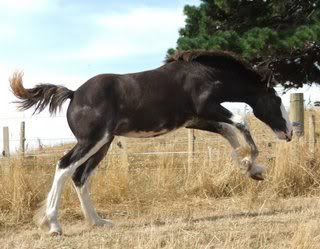 Owner's Name : Davi
Show Name : The Last Romance
Stable Name : Romance
Age : 8
Gender : Male
Years of training : 5
Breed : Shire Horse
Coloring : Deep Brown / Black and White
Disciplines : Cross Country
Personality: Romance is a loving horse, who can be very reserved, moody and stubborn around Strangers. But he adores Davi, and is learning to really like Kate. Although the oldest of Davi's horses, he is very energetic and skillful in competitions, and filled with energy, even in the pasture. He puts everything into cross country, and has won many competitions as a result.
He has been training the longest, and Davi has worked hard to gain this great Animal's respect nd love. Now, they are completely close, and a strong bond of friendship and trust is obvious between them.
History: See Memory