Post by Alice ;; ♥ on May 14, 2007 16:22:31 GMT -5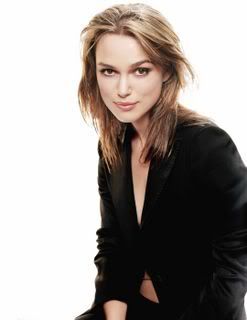 Name : Anna Clark
Age : 21
Gender: Female
Years of riding : 15
Appearance: Anna is basically gorgeous. She is tall, at 5 foot seven, and very slim with it. Her weight means she can never diet, as she is already incredibly slight. Anna has a beautiful face with a lovely smile and elegant yet cute features. She has deep brown eyes, a soft nose and a perfect complexion. Her hair is deep brown, with natural honey brown highlights, which fall from her roots to the tips of her layered and choppy hairstyle. Her slim build also means she has very little bust, but this never seems to have stopped her looking incredible.
Anna is lucky to have beautifully pale skin, which tans nicely, although it takes a while. Its perfectly flawless, with no freckles or imperfections. Anna's lack of spots is helped by the fact she drinks water constantly and doesn't usually eat chocolate. So, in a word, Anna is beautiful. She has the looks and build of a model, and a gaze that could melt any guy. Lucky bitch.
Style : Anna enjoys music of any sort. She generally likes India style pop and rock. Anna dresses in a smart, yet casual way. She tends to wear trousers when at work, and rarely wears jeans. She does, however, look good in anything else. She loves dresses, long skirts an long tops, and can pretty much pull of whatever style she wishes.
Personality: Anna is very quiet and thoughtful, and can daydream very easily. This can be annoying is she drifts off whilst talking to you. However, overall, Anna is kind, caring and very understanding. She loves animals, and puts all her effort into her work.
Anna loves to make friends, and finds it easy, with her generous and witty personality. She loves to read, surf and draw. She finds these very good ways to express herself both creatively and imaginatively.
Anna is very funny, and makes jokes without thinking. She likes to muck about with friends, and loves going to see girly movies or having a nice meal out. Single, right now, Anna is looking for someone new, as usual...
History: Anna grew up around animals, and had always wanted to be a vet. She finished school with four A+s in Biology, Chemistry, Maths and English Literature. She then went on to a gap year, and started university. Now, after a six year course, she is here. She is going to set up the Village's own Vet Surgery.
Accommodation : House