Post by S.E.C.R.E.T on May 12, 2007 11:07:09 GMT -5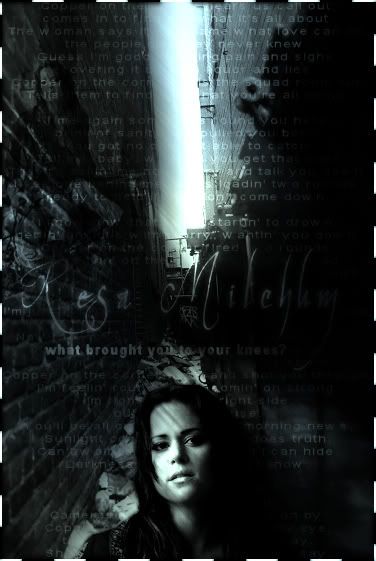 Resa Velia Mitchum
Ace, Moose
27
Female
She's been riding ever since she learned the horse would let her, which would be since she was about three. Maybe it wasn't real riding, but she could balance pretty d**n well until she was about four or five and could reach the stirrups.
Resa has never been one to go by the book. She does what she wants with her life and with her clothes, and so is the birth of some awesome outfits, most of them with an aspect of Rock and Roll. She got black hair and bright blue eyes which sometimes seem to change to a much darker shade that's an intense violet, and can sometimes be pretty intimidating, standing 5' 9". Her long black hair is usually in a hasty braid and it is continually streaked with either bright teal or dark red. She normally picks to wear converses with her friend's writing all over them and wears a size 9.
Though Resa never really fools with her appearance and doesn't own a mirror for her purse, and not really even a good one in her room, she always looks amazing. Her outfits, though thrown randomly together, are cool and usually are made of vintage clothes and huge earrings. She doesn't buy into the usual trends and likes to take things that are strange and cut them until they make a good outfit. At the barn it's jeans or jodhpurs and her boots, along with a tee shirt or camisole. She's tan and has a muscular, lean build; you can tell from looking at her that you wouldn't want to start a fist fight with her. When she's wearing a sleeve-less shirt or camisle, you can see her tattoo, which depictes a white rose stained with bright red blood, underneath which it reads 'love in cold blood' in Italian; it's not huge, for she finds huge tattoos on anyone extremely annoying. If she wears a shirt that rides up or pants that ride low, you might be able to see her other, which shows to six shooters with the barrels crossed and reads 'vendetta', or revenge in English.
Resa is a very versitale person. She can be a sweet southern belle one moment, and switch to rocker the next. She's been in a band as lead guitarist and lead singer and is looking for a another one to maybe join. She enjoys rock, alternative, country, jazz, and jsut about anything else you can throw at her. When it comes to country, though, she doesn't enjoy the newer music as much as she does the old. Don't get me wrong, she'd be glad to dance to Big and Rich any day, but some of the other new synthesized stuff jsut isn't her thing. To name a few of her people, she's good with Allan Jackson, Allison Krauss, Jimmy Buffet, Miranda Lambert, Merle Haggard, Martina McBride, and Shooter Jennings. Another thign she can't stand is prog rock. It makes her gag. For her it's real or nothing...
When she's with her friends or people she likes, she is really funny and loves to make jokes and just be herself. She hates to be around posers, preps, and city folkand tends to close up, cross her arms, and just stare, trying like hell to just tune their annoying voices out. At times she can get really mad, and God save you if it's your fault. She not an open person and she loves to write. Don't screw with her, because she will mess you up, and if she doesn't like something, you can be sure that won't have to look for subtle hints, because she'll usually say it straight to your face, because she likes to avoid unnecessary freezing out, though it often is a result of these blunt confrontations anyway. She strong and she can fight like hell, but usually she'll just freeze you out, because she knows her silence by itself can and eventually will drive you completely insane.
Resa's a daredevil and loves the risks she takes, though they are really just used to cover everything she really is, and lives on the statement 'People can live a lifetime without really living one minute. Take a risk with me and it will only be one less minute that you
haven't
lived.' Unfortunately for some, though, her other motto is "Hit me and I'll hit you back.
Harder.
" She tries to be open to things even though she absolutely hates changes and thinks it just another way to say something that we never, ever wanted to happen actually did. She tends to keep to herself and prefers to wear her ever comfortable mask, for in the end, everyone will find out just who she truly is. Like the wind, she shouldn't and can't be tamed or matched, she doesn't take kindly to those who attempt to do either. She's got a restless spirit that can't be quieted easily.
Resa likes party, and can be found just about anywhere they'll let her play and sing or listen to someone else play and sing, although alcohol is usually definite must for said places. She writes songs, sings, plays guitar and several other things, and just likes getting lost in a crowd, or hell, even standing way out from a crowd.
When it comes to horses, Resa's serious but good humored, and pushes people and horses to get better. That's one thing Resa learned young. if you want something from someone, you push hard, you push some more, and then you push again, until you're past any boundaries. You push once more and you might be somewhere clsoe to where you want. She's great at both Englisha nd Western, and loves to do trick riding and mounted shooting.
Resa comes from a small town far,
far
away from anywhere you've ever heard of. She hung with her friends and snuck into bars, and her group loved to one- up the preps that lived there. She would sneak out at night and climb off the roof of her house, running through the woods behind it to the brook in the clearing on every other night at 12:00.There she would meet her friends and they'd talk and drink beer and crank the country and rock stations on their car radios and just have fun. Getting pushed in the lake by someone or pushing someone in the lake at least twice every summer was a big priority, as well as getting kissed five times and dumping the person afterward, unless of course he or she had been accepted by the entire group. That was how they all stayed so close. They figured that if they'd all gone through it together and all went through the same thing, there would be anything to make anyone feel different, and they were right about it. So the girls dumped the guys and the guys dumped the girls, but every time the clock struck midnight on the creek in the clearing, they were all there and nobody cared what had happened that day or what would happen the next day, as long as they were together for a little while and felt like they belonged here, at least for a while.
Resa's mom is a basket- case that just got of smoking Pot and is currently on her sixth husband, and her dad is a total screw- up, or at least they assume he is, because they don't know where he is at this point. Her mother didn't seem to want to stay anywhere, for memories of loss or something like that, but Resa always knew it was just to get away from the annoying or abusive husbands, though never really was quite sure why they left Greenbriar in the first place, because that wasn't anywhere near where Jimmy dumped her off to go become the hot dog cart king.
The person who helped Resa with everything was her uncle. He introduced her to riding by taking her to his farm in Tennessee, where she grew up for several years. They've always been close and still are, with him occasionally stopping in for a visit.
Accommodation: Stable Flat
Celebrity: Shelly Fairchild